The RMS Queen Mary 2 ship page – the "better than Wikipedia" survey on Cunard QM2 ship to show you technical details (specifications and statistics), size comparison, engines, power and propulsion, fun facts and statistics, construction and design information (including on the QM2 ship LEGO model in Hamburg), accidents history. For even more information (regarding cabins, facilities, public venues and spaces) follow this Cunard QM2 link.
The Queen Mary 2 ship is the biggest, most sophisticated ocean liner ever to set sail, with the most sophistic marine technology in the world. Built as a Carnival order for Cunard in 2003, the QM2 was the largest ocean liner at the time ever constructed. By design, Cunard QM2 is not a cruise ship – she is an express Atlantic Ocean liner for regular crossings during most time of the year. And she belongs to Carnival (owner), while Cunard is only her "bona fide" operator.
RMS Queen Mary 2 ship
Here you will find here various information about the Micky Arison Carnival's RMS Queen Mary 2 ship – the authentic Transoceanic liner continuing the tradition of crossing the world's most famous ocean on a cruise ship that is charmingly special, traditionally classy, and in the same time ultra modern as design. construction and technology implemented.
Cunard QM2 is great for families, and featuring round-the-world cruise and transatlantic crossings. She offers North Atlantic comfortably crossing on regular schedule, with latest high-tech conveniences.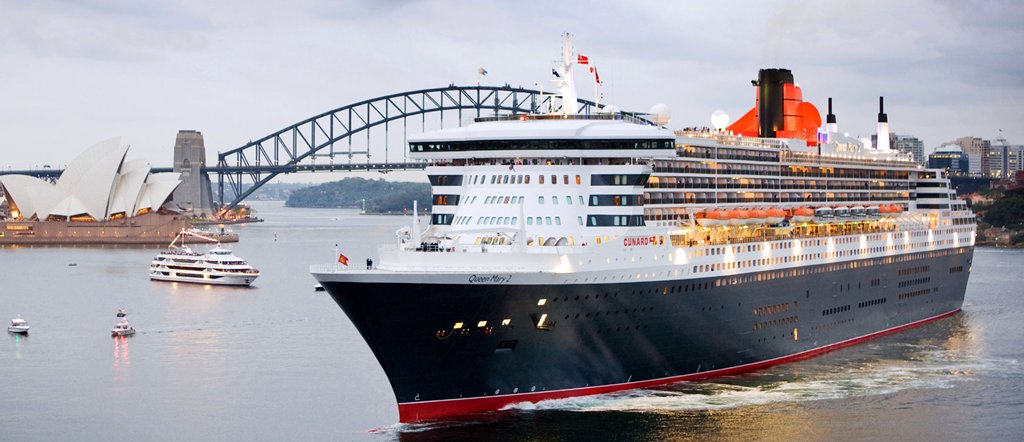 The Queen Mary 2 ship was built tough enough to whether the roughest seas, in the same time sailing smoothly for the absolute satisfaction of her always special guests. The hull and superstructure were designed and built to withstand rough nature of Atlantic Ocean – the world's most famous ocean, notoriously unpredictable, huge, charming and so important as connecting the old with the new world.
QM2 ship specifications
Ship name: "RMS Queen Mary 2" – designated as RMS (Royal Mail Ship) by British Post Office
MMSI number: 310627000
IMO number: 9241061
Owner – Carnival Plc (carnivalcorp.com), Management – Carnival UK Group, Operator – Cunard Line (cunard.co.uk)
Builder: Chantiers de l'Atlantique (the shipyard in St Nazaire, France, now part of STX)
Designer: Stephen Payne (also Director Project Management for the ship's construction)
Flag Bermuda (British)
Ensign: British Red (merchant marine), when the captain is a Royal Naval Reserve officers, QM2 flies the British Blue
Class Status – LR Classed
Dimensions: Beam/Width is 135 ft (41 m, waterline), Width at bridge wings is 45 m. Length is 1132 ft (345,03 m). Height is 236,2 ft (72 m, keel to funnel), equal to a 23-story building. Draft is 33 ft (10,1 m)
Gross Tonnage volume is 148,530 GT-tons
Passengers capacity is 2620; Crew capacity is 1,254 (50+ nationalities); Space ratio is 57,25
Passenger decks are 14 (out of 17 total), exterior deck space is 152420 ft2 (14160 m2), with total passenger cabins 1296 (Suites 173, Balcony 953, Outside 64, Inside 279, Accessible 32).
Maximum speed is 30 knots (35 mph / 56 kph), average cruising speed is 24 kn (27,6 mph, 44,5 kph)
Engines, Power, Propulsion, Strength: 157,000 horsepower, 2 gas turbines, 4 diesel engines (diesel-electric equipment); environmentally friendly; 4 pods (2 fixed and 2 azimuthing) each of 21,5 MW (equal to 872 double-deck buses), 3 Thrusters (power 3,2MW), 2 sets of Rolls Royce stabilizers (each weighs 70 t, extending from the hull 20 ft / 6,2 m).
Steel hull plating, extra thick for greater rigidity during Atlantic crossings. Funnel size is 13,4 x 6,7 m (44×22 ft).
Building cost (as ordered) was $900 million dollars.
Maiden Voyage: January 12 through 26, 2004, Transatlantic crossing from Southampton to Fort Lauderdale, Florida.
QM2 Captain's name: (former) Commodore Ronald Warwick, (current) Commodore Christopher Rynd.
Expected life for the QM2 ship is 40 years, in which she will sail a distance equivalent of 12 times Earth to Moon and back.
QM2 passenger rooms categories range from economy (Inside staterooms with no view) to luxury suites with huge private balconies, marble bathrooms and a butler. The Suite prices may soar up to $4,000 a night. She also has 10 restaurants/dining options, 14 bars and lounges, disco, casino, the impressive number of 5 swimming pools (1 with retractable dome), 8 Whirlpools, spa, the world's largest floating ballroom, the biggest library at sea (with 8000+ hardback, 500+ paperback, and 200+ audio books), a huge Broadway style theatre, 3D cinema, and the only in the world floating Planetarium.
QM2 ship size comparison
The Queen Mary 2 ship is so big, that when she arrives and they tie her up in the NYC harbour at down, it is as though the city has a whole new neighborhood. This is a Queen Mary 2 vs Titanic size comparison, also including the names of "La Santa María" (the Christopher Columbus's largest ship), the Wyoming schooner (wooden, the largest one ever built), and the Noah's Ark from the Bible's Genesis (CH 6-9).

QM2 length is 1,132 feet (345m) – since it's difficult to picture such large vessel's size, here are some interesting size comparisons:
longer 113 feet (34,5 m) than original RMS Queen Mary ship
longer five times than Britannia – Cunard first ship
longer 147 feet (44,8 m) than Eiffel Tower
more than twice the Washington Monument length
more than 3,5 times Big Ben height
shorter only 117 ft (35,7 m) than Empire State Building
(Australia) she's 2/3rds the length of Sydney Harbour Bridge; 40 m (131 ft) more than Sydney Tower; just 55 m (180,5 ft) short of the Perth's Narrow Bridge's entire length
longer than 36 London buses
as long as 4 football fields
as tall as 21 story office tower
QM2 is 3 times the size of the RMS Titanic, and double the size of the RMS Queen Elizabeth 2 ship.
In the period November 28 through December 8, 2011, QM2 entered dry-dock for refurbishment, preparing her for the 2012 8th Anniversary. The 2011 refit refreshed all public areas and staterooms, offering new colors and redesigned spaces as the famous Golden Lion Pub. Next YouTube video is about the QM2 refurbishment 2011 changes:
QM2 ship accidents and incidents
The fitted to QM2 Rolls-Royce Mermaid propulsion pods proved to be prone to failure. As failures had been frequent and extensive, Carnival Corp, by way of Cunard Line division, in January 2009 took Rolls-Royce Corp to court in US Former placed claim the Mermaid propulsion systems installed on RMS Queen Mary 2 were defective in design. Cunard Line argued that Rolls Royce knew but deliberately conspired to defraud and deceive. In January 2011 Carnival Corp. was awarded US$24 mill (UK£15 million) by US court due to repeated failure of the RR propulsors.
On 23 September 2010, MAIB ("Marine Accident Investigation Branch") reported on investigation of failure of capacitor in aft filter room when QM2 approached Barcelona.
On 5 October 2011, fire broke out in gas turbine engine room (situated high on ship, behind "Queen Mary 2" sign). Fire started in one of gas turbines. However, no injuries were reported as crew managed to extinguish fire safely.
RMS Queen Mary 2 design and construction
Cunard QM2 vessel is not a cruise ship – she's an ocean liner with sharp bow and a deep hull. Her square shaped stern gives better hydrodynamic efficiency. Queen Mary 2 was built to be driven hard through the worst the sea could through at her.
Steven Payne is the ship's designer. Her lifeboats are high above the water line, so even a rogue wave can't hurt them. And he shaped her bridge to protect passenger decks. The balconies are so high up that they are certainly not vulnerable – protected forward by the superstructure front, within the hull.
QM2 ship LEGO model in Hamburg
Before all the "expert" information, see this stunning RMS Queen Mary 2 LEGO model. It was built in 2009 using no less than 480,000 LEGO blocks – the model's length is over 20 ft  (7 m), the weight of all used blocks is ~1 ton!!!. Curious fact is that the LEGO company didn't support the challenge. This QM2 LEGO model was designed and built by two LEGO fans from Germany – Rene Hoffmeister and his colleague Klaas Meijaard (both LEGO blocks certified professional builders), and a bunch of helpers, of course.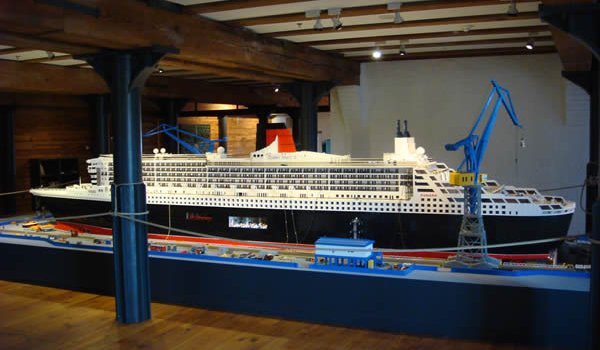 The QM2 ship LEGO model construction took them 6 months, with ~1,200 hours of hard work (which is 50 full days and nights). They built it right inside the "Internationales Maritimes Museum" in Hamburg, Germany, where it can be seen today.
Notice they've made models even of the lifeboats, the bulbous bow, the bridge – everything is so perfect and beautiful! From LEGO blocks was also built the whole dry-dock area, with all the cranes, scaffolds, building materials and various machinery there! They even made the "keel-laying" ceremony 100% authentic – placing luck-coins inside. The only flaw in this model is that the bridge-wing extension is missing – simply because they made it before this feature was added at the real drydock.
The amount of effort and love put in this creation is inspiring. This is truly piece of art absolutely worth to be placed in one of the most famous maritime museums in the world. It's surely well worth to visit and see it. I would absolutely love to see the QM2 model in real life!
Right after the photo collection (my gift to all the Pinterest maniacs out there), you can watch the amazing YouTube video about building the RMS Queen Mary 2 model – you will absolutely love it!
| | | | |
| --- | --- | --- | --- |
| photo 1 | photo 2 | photo 3 | photo 4 |
| photo 5 | photo 6 | photo 7 | photo 8 |
QM2 ship design
The Queen Mary 2 ship was designed to secure the safety of passengers and crew considering her regular Transatlantic crossing cruises. Enterprise & Art began work on the most significant engagement in its history in 2001 – consulting and arranging placement of art for the flagship of Cunard fleet – the RMS Queen Mary 2. The engagement comprised commissions for 565 original works of art for the public areas, which varied from paintings, freestanding sculptures, and objects d'art, to relief panels, murals, mosaics and other art forms.
For the plenty of cabins, suites, apartments and corridors on board approximately 200 graphic art pieces were acquired. In-house 3,400 exclusive reproductions (for cabins, suites, apartments) were made by Enterprise & Art. Ship's architects were the Sweden based Tilberg Design and London's SMC Design and Designteam. A total of 128 artists from 16 countries participated in the QM2 project.
QM2 ship construction
On 4 July 2002, the first block of future RMS Queen Mary 2 – her keel was laid down at Saint-Nazaire, France in the construction dock, with hull number G32. QM2 is made entirely of steel.
It took one million hours to design the ship, and 3,000 craftsmen spent 8 million working hours on building her.
Around 20,000 people were involved in her construction, design, and fitting out.
300,000 steel pieces were assembled into more than 90 blocks off shipbuilding yard (then stacked and welded to complete the superstructure).
QM2's steel hull is of 94 blocks (580 panels), the weight of some reaches 600+ tons; In the construction process, some 1,500+ km of welding was involved. The hull's weight is 50,000 t, and to paint it 20,000+ L of paint was used.
2,500 km (1,550 ml) el cables were used on the ship, with ~500 km of pipes/ducts.
Laying the first section of the ship is quite an interesting ceremony, presided by Captain Ronald Warwick (with Cunard Line since 1970). With an old maritime tradition, two coins – one French and one English, were placed inside the keel to give QM2 and her passengers luck. It's a custom dating back to the ancient Greeks to put gold coins in the bottom of a ship as an offering to Poseidon, God of the sea.
On 21 March 2003, RMS Queen Mary 2 floated out and was fitted in a large fitting out basin – she was the first ship to use the huge dry dock since Saint-Nazaire shipyard built huge tankers in 1970s (MV Gastor).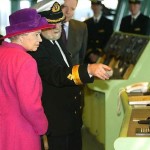 Eighteen months after construction of QM2 sea trials began between 25-29 September and 7–11 November 2003, off the French coast. 1,5 mln dollars were spent on early model tests only.
The final stages of Queen Mary 2 construction were marred by fatal accident. Disaster struck on a family-open day at the shipyard on 15 November 2003. A gangway gave way as a group of visitors boarded the liner. It collapsed under the group of workers and their relatives. They plunged over 15 m to the concrete floor below. 15 people died, more than 30 were injured.
However, construction was finished on schedule and on 26 December 2003 Cunard Line took delivery in Southampton. On 8 January 2004, RMS Queen Mary 2 was named by HM Queen Elizabeth II – her namesake's granddaughter. At right – the QM2 ship's Godmother HM Queen Elizabeth touring the bridge along with Commodore Ron Warwick during christening ceremony.
| | | |
| --- | --- | --- |
| QM2 2003 Feb 5 | QM2 2003 May 28 | QM2 2003 June 7 |
| QM2 2003 Aug 8 | QM2 2003 Sept 22 | QM2 seatrials 2003 Nov 7 |
And if you have enough spare time, watch here the amazing "RMS Queen Mary 2 Building" documentary – an almost 2 hours in length video project by Discovery Knowledge, split in 2 parts.
Part 1
Part 2
QM2 ship engines, power, propulsion
RMS Queen Mary 2 ship was the first passenger liner featuring IEP propulsion ("Integrated Electric Propulsion"). Queen Mary 2 features power plant of CODEG type "Combined Diesel Electric and Gas Turbine" power plant, the most improved power generation/supply concept, popular on all new cruise ships. This new technology propulsion guarantees the ship can cross North Atlantic in only six days. Despite her size, QM2 has 26,5 knots service speed (25% sea margin), while her max speed is 30 knots, with all generator equipment on duty. Such an achievement was obtained partly from her narrow beam and lengthening of hull, and partly from her mighty power plant, generating almost 118 MW output (118 mill Watts).
RMS Queen Mary 2 is powered by 4 Wartsila diesel engines model 16V46C (common-rail fuel injection "EnviroEngines", electronically-controlled, 16,8 MW power output each) – the most popular large cruise ship engine on the market. Located in double bottom, they are able to develop almost 68,000 kW – which is 57% of total electric energy. The four EnviroEngines are of the most green types on the market ensuring lower emission rate (no visible smoke, fully NOX compliant). Each engine weighs 217 t, which is one of the reasons for their position in engine rooms deep in the hull. The Wartsila 46 engine's main specifications are: cylinder bore 46 cm, piston stroke 58 cm, output 1 MW/cyl, speed ~500 rpm, and piston speed ~10 m/s.  For redundancy, diesel generator sets are in 2 separate engine rooms.
The 4 diesels are supplemented by 2 gas turbines made by General Electric – model GE LM2500. Both turbines are able to develop 50MW power (each one generates 24 MW / 60 Hz electricity), which is 43% of total power. The QM2 gas turbines location is on the highest deck (soundproofed beneath the funnel), thanks to their lower weight and for shortening the air supply/exhaust gas piping system. The main specifications of the LM2500 turbines are: weight 4,7 t, length 6,5 m, height 2 m, speed 3,600 rpm.
Queen Mary 2 propulsion is provided by four "podded' propulsors – suspended from the hull, each with its own electric motor and propeller, each weights ~320 tons. These are the 20MW Rolls Royce "MerMaid" model, with the two forward being fixed and the two at the stern are 360° azimuthing pods (azimuth thrusters). Often called "Azipods" (brand name of ABB Group corporation), they incorporate electric AC motor which directly drives fixed-pitch propeller with skewed blades for low vibration and noise. At the time she was built, her pods were the largest and most powerful ever made – delivering a total of 157,000 HP.
The QM2 ship propulsion system also features 3 in-hull thrusters (3,2 MW each) for better maneurability while in port (not requiring "parking" tug boat support). These 3 bow-thrusters are conceived behind massive steel doors in the very hull, and can turn out a total of 13,000 HP.
She also has four (built by Brown Brothers of Edinburgh) folding fin stabilizers of the VM Series.In rough weather, QM2 can deploy all four of them (extending from the sides of the hull) to keep her from rolling side to side. Together, stabilizers can reduce her roll by 90%.
QM2 ship technology
QM2 has an 11 bed hospital with X-ray machine and well equipped lab. A self contained computer network provides access to e-mail in every cabin. Two satellite antennas secure communication from anywhere at sea to anywhere in the world.
The Queen Mary 2 ship uses more than 1,000 tons of fresh water every day (~1 million litres). Even a ship her size is not big enough to store that much water. So she makes it herself. Sea water is drown in the ship in the middle of the hull. It's pumped into three low pressure flash evaporators where it's boiled by waste heat in the engines. The steam condenses into distilled water that is pumped into storage tanks. The salt collects on the filters in huge wafers. The QM2 ship can make a 2 mln liters of fresh water every day.
The QM2 generates ~5 tons of garbage per day (every 24 hours, the same amount of a city of 40,000). And no garbage gets chucked into the sea. It all comes to the garbage room, on arrival they separate into glass, tin, cardboard. For example, 1 Transatlantic crossing produces 1 ton of crushed glass and 26,000 empty cans. Everything that can be burnt is shredded then incinerated at 1,000 degrees centigrade. The ash is collected and unloaded in port.
Even waste water is treated. Black water (from toilets and onboard hospital) is stored in buffer tanks. Bacteria is added to break down the waste, then it's filtered through a membrane system. Only then is it discharged into the sea. Grey water (from sinks and showers) is also treated then stored as what is called "technical water" which has 2 major uses – cleaning the decks, and for smothering onboard fires.
If fire is spreading too fast for the fire team, the QM2 remarkable technology takes over. The ship is divided into 9 fire zones. When smoke is detected in any one of them, that zone is evacuated, fire doors are closed by remote control, the area is sealed, air is sucked out by the ventilation system. Then a superfine mist of water (like a heavy fog) is pumped through a network of special nozzles to smuggle the fire.
Queen Mary 2 ship "Wiki facts"
RMS Queen Mary 2 makes $60,000 per hour profit.
QM2 power plant generates 118 million Watts of power – enough electricity to light up a city of 200,000.
For a Transatlantic crossing, the QM2 fuel consumption is 1850 tons of diesel oil, plus another 1000 tons of fuel for the ship's gas turbine. Only to to fill the ship's huge fuel tanks takes 6 hours.
It takes 10 hours to disembark all 2,600 passengers and all their luggage, in the same time getting ready for the embarkation of the 2,600 new ones. In these 10 hours: 1,300 beds will be made, 2,000 bathrooms will be cleaned, 2,.520,000 ft2 (234,116 m2) of carpets will be vacuumed, many hundreds of windows will be washed, and there is the laundry:
On a during turnaround day (in the ports of Southampton and Brooklyn, New York) the QM2 hotel staff wash about 3,200 towels, 1,700 hand towels, 3,000 face cloths, 8,000 linen napkins. This is also the time when QM2 staff processes 4,500 pieces of luggage, and the ~400 tons of supplies, of which 150 tons of food (wine, caviar, vegetables, fruits, meat, milk). Every free bar tender, waiter, cook and house keeper is involved in this process.
An these are the "RMS Queen Mary 2 food facts". On a 7-day cruise are consumed: 65,000 eggs, 4,000 bottles of wine, 2 t potatoes, and of course, the 26,000 tea bags! Plus (per day) 3,3 kg caviar, 73 kg lobster, ~350 champagne bottles, 460 eggs, 1,200 L milk.
There are 1,070 deck chairs on the ship.
The artwork on the QM2 is worth more than £3,5 million.
The teak ship-around Promenade Deck length is 2,034 ft (620 m).
RMS Queen Mary 2 is a floating self-sufficient city. There is enough food on board to feed an army, plus the world's biggest most extensive wine cellar afloat – with ~40,000 bottles (343 different labels), ranging in prices per bottle from US$25 to US$4,000. On the ship per year are consumed ~230,000 bottles of wine, and around 1,5 million drinks.
There are 150 chefs and 9 separate galleys on the QM2 ship, producing ~16,000 meals a day. Dishing out 16,000 meals day after day is a monumental feed of organisation. A computer program keeps track of what's ordered, and what they're running out of. The ship's provision department is plugged into the same system. That way the F&B manager knows exactly down to the last crumb what the ship exactly has in stock.
Like on every big cruise ship, QM2 uses a lot of water – for drinking, for the 2,000 bathrooms, for the galleys, plus a hell of a lot water for washing. On a daily basis, ~80,000 pieces of china are used, so they have 85 people in charge only to wash dishes and they work 24 hours (day and night shift).
The QM2's two whistles (attached to the funnel, length of 2,1 m, or 7 ft) are audible for 10 ml (16 km). The starboard one is an exact replica of the RMS Queen Mary (1) ship's whistle.
QM2 has three anchors, each of 23t. They are 770 m (2,526 ft) long with the breaking force of 9,300 kiloNewtons.
The QM2 ship illuminated name signs near funnel are the history's biggest ever – length 22 m, height 2,4 m (72×8 ft).
The QM2 ship's Captain is called "Commodore". It's a military (navy) rank superior to Captain and below Rear Admiral. Commodores are usually commanding more than one ship at a time (flotilla), while Captains command a single ship.
When docked at the New York, Brooklyn or the Southampton cruise port terminal, huge number of computers are being linked to the QM2 database through fiber optics. Every cruise passenger gets a photo ID (it doubles as a room key and charge card as well). Passengers use it everywhere on the ship – from the gift shop to the casino (Cunard doesn't accept cash on board).
One hour before departure the QM2 passengers experience the muster drill – to make sure they all know what to do/where to go in case of emergency.
The crew practices the fire drill once a week. Crew takes the fire drill so seriously, they manufacture smoke to make it more realistic, with the electric/ventilation systems being shut down in the "affected area".
If QM2 is late for departure in NYC, she loses light for maneuvering, plus the ocean tides rise making the sailing under the Verrazano bridge a challenge – a very tight squeeze. Note: the New York's Verrazano suspension bridge connects Staten Island and Brooklyn in NYC at the Narrows strait (between the sea protected upper bay and the larger lower bay).
The total number of all Cunard ships since the company's establishment is more than 250.
And remember – the RMS Queen Mary 2 ship's owner is Carnival, Cunard is the vessel's operator. The reason I'm pointing this out again? Because good folks (ahem) can lose a bottle of expensive liquor or whatever over this one.
The huge difference with other liners is that when you book the Queen Mary 2 ship, you don't book a cruise ship holiday – you buy an oceanic adventure. On each of her sailings, no matter the destination or the itinerary length, passengers always expect the ultimate White Star service and the traditional British cruising experience, a story of a lifetime – exactly what the Cunard QM2 ship was built for! She is not a queen to be missed!