The Queen Mary ship – haunted by ghosts, rich of stories of patriotism and crimes from the history of one of the most famous Trans-Atlantic ocean liners of our world. 
Clearly, the Queen Mary haunted ship history began once the city of Long Beach California decided to buy from Cunard this so special ship and to convert it into a floating hotel and museum. And about the new ship – follow this link for the RMS QM2 cruise ship itinerary and schedule with prices to compare.
Why is the RMS Queen Mary haunted?
The world's most famous ship hotel has at least 49 reported passenger/crew deaths from the QM ship history, and the official statistics say this hotel is haunted by at least 130 ghosts/spirits. Since the ship was moored in Long Beach CA, several employees and quite a number of guests have experienced seeing ghostly creatures and hearing mysterious sounds. And, of course, the plausible explanation is these are the ghosts of people who have died on the ship.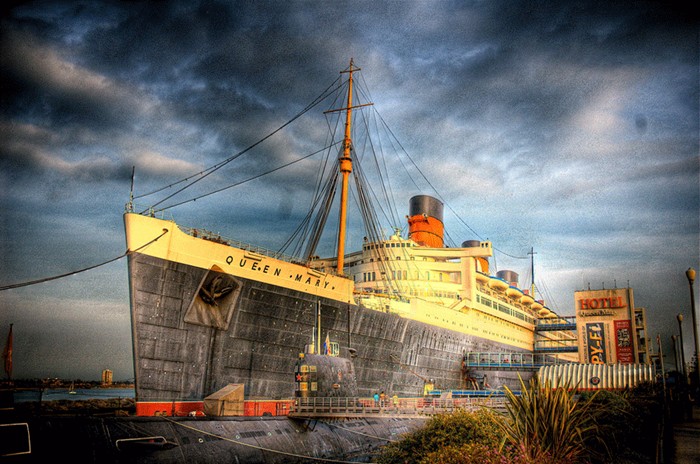 The Queen Mary ship haunted business story
The Queen Mary "haunted ship" business is prospering ever since. The hotel's officials make pretty good money out of it by selling ghost tours. Some of the ship tours are "normal" (operated during the day), while others include dramatizations of the incidents for a way more eerie experience. They also have "upgraded" the area adding a maze on QM hosted during Halloween – a most popular Long Beach attraction. Now, just to indulge your curiosity, we offer you a concise info on the Queen Mary haunted tour hours and tickets prices:  it's offered from Monday through Thursday (from 11AM to 6PM) and Friday through Sunday (from 11AM to 7PM). The tour lasts for appr 35 min and costs US$35 (per adult, and yes – it's a buck per minute) and $24 (children 5-11 yo). You can check the Wikipedia's "rumors of hauntings" – about the "supposed haunting marketing and promotion of the ship".
The haunted Queen Mary ship tour will show you the most "spooky famous" sections of the ship, where guests may enjoy special effects with fog, really loud speakers, lighting & video dramatic recreations of ghost encounters. We do have this idea to cover more aspects of this amazing ocean liner of the past (and obviously of the present) with an additional article about the Queen Mary ship hotel in Long Beach CA as hotel-boat experiences (accommodations, dining, attractions, weddings and other services). And totally without the ghosts! So visit us again soon for more pricey spicy information of this never dying and forever "Cunard" cruise liner.
Queen Mary haunted stories – the most famous hauntings
Cabin B340 is no longer rented out – the reason for this is lots of paranormal activity/disturbances in it. Guests have claimed that it's haunted by the ghost of a murdered staff member (a purser) – faucets turning on by themselves, bed sheets flying across the room, which is, by the way,  stark white with very little furniture in it.
The QM engine room is one of the absolute hits with its ghost of mr Pedder – the fireman who died there. During a routine fire drill in 1966, this young sailor was crushed to death by one of the ship's watertight doors (the infamous "Door No 13" in the "Shaft Alley). During emergencies these doors would be closed, thus sealing off large sections of the QM to avoid sinking. This incident, in particular, is pretty stupid though. According to the official version, just for the fun of it, crew members had this "tradition" to try their luck hopping back & forth through the doorways as many times as they could before the huge door would close, and the victim apparently tried one too many times. Some visitors have reported seeing the man's bearded ghost in blue overalls to walk toward the door 13 and then simply vanish. At the tour they call him "Half Hatch Harry", but his real name was John Pedder.
The swimming pool ghosts, believed to be of people who drowned there (note: there's no a single passenger death due to drowning listed in the ship's logs). There are number of exclusively female ghosts in the 1st class pool area, and in the 2nd class pool the most popular ones are the ghosts of an elderly woman (in her 60-70s, dressed in black & white) and a little girl. The little girl's name is Jackie (drowned during a TA crossing), but she also is seen in many other places across QM. A supervisor lady and her co-worker heard strange sounds in the pool area – like a little girl playing and splashing there. Then the splashing stopped, the eerie giggling continued, a small kid's wet footprints were noticed walking into the changing room.
The women's changing rooms area – a really a cramped and dark space, with numerous tiny rooms lined up on both sides. They are located at the back of the pool and are said to hold a swirling vortex of negative energy, something like a dimensional gateway, producing heavy feelings detected by several psychics. Some say this could be due to a woman who has been raped there at one time.
The empty boilers rooms are really massive and creepy, and are now used as part of the "Ghost and Legends" show, with their own ghost stories. Note: when QM was docked at Long Beach, all her boilers have been removed.
The Curacoa ship disaster and the cargo hold area (called "Bosun's Locker") – another place with lots of noisy death-already crew members. During WWII, the QM ship while sailing in zig-zag to evade the Nazis accidentally collided with one of her escort boats (HMS Curacoa) and sliced it in half (the boat sunk and all 300 crew on it drowned). The bow area was seriously damaged, and obviously sometimes screams can be heard there, along with eerie sounds of metal tearing, pounding on the walls, water rushing.
The Winston Churchill's stateroom – they say this is where he planned the D-Day invasion by playing with toy-ships while taking a bath. And here some have reported smelling (naturally) cigar smoke.
The old kitchen  – during WWII a cook was murdered there by troops aboard the QM who didn't like his cooking. the unfortunate cook was stuffed into an oven & burned to death, which explains why his screams can still be heard around this place
The ship's morgue – well, this is the right place to search for ghosts on Queen Mary, since there are 49 officially reported deaths on this ship.
The list of other "popular" spooky places on QM includes: the Queen's Salon (there's a ghost of a young woman dressed in white), the 1st-class Suites (a ghost of a man dressed in a 30s black suit), the 3rd class nursery (still full of authentic kids toys, where kids are playing and occasionally crying), the 2nd-class Swimming Pool (it has its own ghost of a drowned woman – a very pale lady in a blue dress from 1940s, dark hair, no make-up on).
Queen Mary haunted ship  (not-necessarily ghost related) facts
This ship is a drain on energy. Well, may be not so for humans, but definitely for batteries – cell phones and all kinds of digital devices (including cameras) are crossing its threshold fully charged to drain just in a few minutes.
Digital cameras often refuse to function properly – they flash a light without taking a picture, suddenly after that they start working again.
Some "ghost searchers" do occasionally hear or see or feel something, also experiencing some of the "normal" paranormal activity symptoms, like dizziness, nausea, heat/cold flashes. There's a possibility, though, that since the 2 hour tour of the QM's most ghostly parts begins with a dinner at the Sir Winston's restaurant, and after the tour guide's numerous "horror suggestions" some guests may simply experience the side effects of too many dinner drinks.
While it seems like the Queen Mary haunted ship is a real beacon for paranormal phenomena, this is one old big liner full of history and charm. Whether you are a skeptic or true believer in the paranormal world of the Queen Mary hotel, this ship and its tours are a great option to enjoy one special evening on one of the most famous ocean liners of all times. The fact is, the combination of a big set of world-class ghost stories and an elegant dinner at a classy restaurant is a special offer that not so many passengers people can refuse! I guess if you consider the "dinner & tour of the haunted ship" option, you'll probably get all dressed up for dinner. But be sure to choose more comfortable shoes! There are a lot of stairs needed to climb at the Queen Mary ship, and a lot of ghosts to run from!