This is the Cunard Queen Mary 2 Transatlantic cruise 2021-2022 schedule of all one-way and round-trip Atlantic Ocean crossings. It shows all departures from New York, Southampton-London, and Hamburg as dates and prices per person. RMS Queen Mary 2 Transatlantic crossings are part of the Cunard Line's regular Atlantic Ocean crossing service between the UK and the USA (London/Southampton and NYC New York). Next is the link to our complete QM2 cruise itinerary schedule (all sailing dates with the lowest prices comparison). This link is to our review of QM2 cruise ticket prices.
Longest QM2 Transatlantic crossings are between New York and Hamburg (Germany /9-day itinerary with Southampton, England). The longest QM2 Transatlantic cruises are when the Caribbean or Canada New England is part of the Atlantic Ocean crossing itinerary.
RMS Queen Mary 2 Transatlantic cruise experience
The Cunard Line maintains a scheduled Trans-Atlantic Ocean passenger service between the UK and the US. It's almost like a ferry cruise service – but it's absolutely not a ferry one!
The Cunard Transatlantic cruise schedule offers at least one crossing a month between UK/Southampton and USA/New York City, in the period from April to November or early December. Most of the crossings are 6 nights / 7 days in length. On the Cunard's RMS Queen Mary 2 ship, it's definitely the most civilized and adventurous exciting way to visit the UK and USA – or both!
Doing the 7-day voyage on Queen Mary 2 is not a Transatlantic cruise – it's an Atlantic crossing. Most of the Transatlantic cruises are operated only in the low season when quite a number of cruise ships reposition between Europe and the North or South American continents. But the huge number of QM2 passengers use the Cunard crossings as their preferred travel mode between Europe and the USA. And QM2 is not any ship and not a regular "cruise ship" – she's a real-deal ocean cruise liner, which power and hull strength helps her to withstand the nasty North Atlantic weather.
Celebrating the 200th QM2 Transatlantic Crossing
The most famous Cunard ship RMS Queen Mary 2 celebrates her 200th Transatlantic Crossing – an important milestone and historic event worthy of a grand Cunard-style celebration! The 200th Cunard QM2 Transatlantic crossing started from New York (Brooklyn) on the 6th of July 2013 sailing to Southampton, England (arriving in the UK on July 13th). This is her 9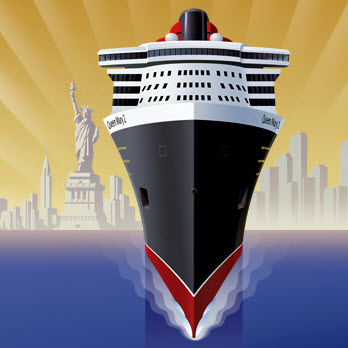 th sailing season.
To mark her 200th Atlantic Ocean crossing, RMS Queen Mary 2 performed on July 6th a sail-by of NYC's most famous attraction – the Statue of Liberty. The list of onboard special events includes lectures and presentations by renowned speakers (by the "Cunard Insights" enrichment programme), Big Band musical performances, a most special Gala Dinner (on 11 July). Stephen Payne (a naval architect, responsible for the QM2 design) will present an insight into her construction. He is also guest of honour at the Gala Dinner. Another renown speaker is the BBC's Nick Owen. Performing onboard is a jazz orchestra of 13 musicians and 1 vocalist from the Juilliard School. They will perform in the Royal Court Theatre (in the evening), an afternoon tea dance, lunchtime jam sessions (in the Chart Room), and a late evening in the Illuminations (planetarium).
RMS Queen Mary 2 Transatlantic Crossing statistics and facts
This cruise liner is one of the biggest (weight 151,000 tons, capacity 2,500+ guests, and 3,056 max/all berths, 1,250 crew), longest (1,132 ft), tallest (550 ft) and most expensive (cost to build USD 800 million) passenger ships ever built. QM2 is also the only one still operational ocean liner, and she is the fastest cruise ship in the world (service speed 34 mph). RMS QM2 is the most famous cruise ship afloat – simply there's no other ship in the world to enjoy such respect and recognition.
In the course of the vessel's 200 Transatlantic Crossings over 500,000 passengers were carried. They have consumed more than 8,400,000 cups of tea; more than 980,000 scones; over 481,000 bottles of champagne; more than 644,000 eggs; nearly 960,000 liters of milk, and 22,400,000 meals have been served. More than 1,000 dogs have been transported in the QM2 kennels.
In comparison to other Cunard ships, QM2 has many seasons still ahead – RMS Queen Mary (1001 crossings), RMS Queen Elizabeth (896 crossings), ms Queen Elizabeth 2 (812 crossings).
The Cunard's flagship QM2 cruise liner is a classic/authentic Trans-Atlantic Ocean liner offering deals on regular one-way and round-trip Cunard crossings between UK/England and USA/New York (NYC, Brooklyn). The regular QM2 crossings also offer cruises between New York and Hamburg (Germany) – again with both one-way and longer round-trip itinerary. In this survey, we list only the regular crossings which do not include additional ports of call.
All QM2 cruise rates below are only indicative (USD, double occupancy, not inclusive of taxes/fees), showing you only the cheapest prices on Queen Mary 2 tickets for the lowest cabin category available for booking. The following QM2 ship infographic is larger than seen (click on image to enlarge).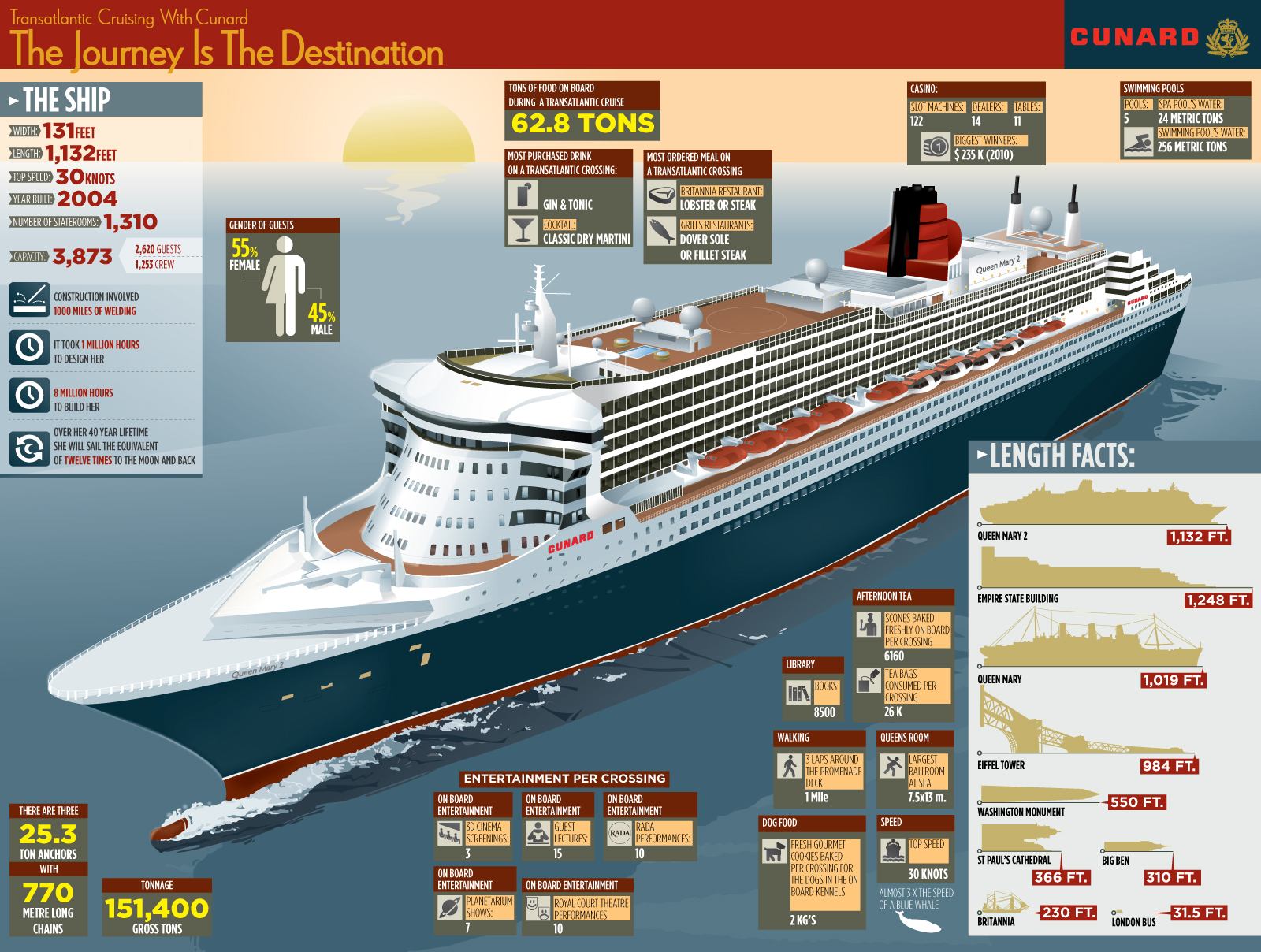 Queen Mary 2 Transatlantic 2021-2022 crossings
IMPORTANT: Due to the ongoing Coronavirus crisis, Cunard cancelled all Queen Mary 2 cruises scheduled for 2020 (March 14 to December 31) and for 2021-Q1 (January 1 to Oct 22).
The following tables show all Queen Mary 2 ship departures from Southampton to New York and the reverse from New York to Southampton. They are part of the ship's scheduled regular service on  Cunard Transatlantic Crossings: Westbound routes (from the UK to the USA) and Eastbound routes (from the USA to the UK). Prices are only indicative and subject to change.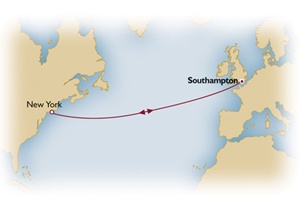 Queen Mary 2 Southampton to New York crossings
The Queen Mary 2 cruise ship is usually departing from Southampton at 5PM and arriving in New York from 6:30 to 7AM. For exact New York USA arrival times please visit the Cunard Line's website.
itinerary variations:
Westbound 7-day (or 8-day) Southampton to New York
longer crossings (incl round-trip from Southampton to NYC, Canada New England, Caribbean)
QM2 Transatlantic 2021 from Southampton
December 15 (7-day to NYC – $1100 pp) 26-day roundtrip plus Tortola (26), Basseterre (27), Bridgetown (28), Roseau (29), Philipsburg (30), New York City (Jan 3) – $4200
QM2 Transatlantic 2022 from Southampton
Jan 10 (8-day to NYC – $1350 pp)
Apr 3 (7-day to NYC – $1300 pp)
Cunard QM2 Southampton cruise port embarkation
There are four possible Southampton cruise terminals where you can board the Queen Mary 2 ship – so check your booking for the exact terminal:
QE2 Terminal (dock gate 4)
City Terminal (dock gate 10)
Mayflower Terminal (dock gate 10)
Ocean Terminal (dock gate 4).
The taxi service from Southampton Central is ~10 min, costs ~£7 to Mayflower/City, and ~£10 to QE2/Ocean terminals.
For schedules and price information on all the trains to Southampton from London and other major UK cities please visit nationalrail.co.uk, and this is the Port of Southampton website southamptonvts.co.uk.
Queen Mary 2 Southampton boarding/check-in services open at 1 pm, and close ~3:45 pm (the exact check-in time is on your Cunard ticket). The line will also send you or you can download and print information about your departure date and room number (print them and put one on each of your bags). Remember that the baggage weight limit is 23kg/51pounds per bag (no limit about their number).
At the check-in service desk, you show your ticket, passport, and credit card for on-ship purchases, and a photo will be taken for security purposes. You will be given a plastic card acting as an embarkation card, room key, and charge card on the ship. After the security check, you embark on the RMS Queen Mary 2.
Cunard QM2 New York cruise port disembarkation
All QM2 NYC disembarkation procedures are delivered to your cabin 1/2 days before the Brooklyn arrival. The Cunard's "Express disembarkation" service allows you to leave the QM2 ship ~1/2 hour after docking (~7:30am). The standard procedure includes delivering to your cabin of colored labels for your baggage 1 day before the NYC arrival (put one on each of your bags, move them outside your cabin by the door between 8-12pm the night before arrival. Your bags will be st the Brooklyn cruise terminal next morning, in a dedicated zone marked with your labels color. Know that they disembark the more expensive rooms guests first. The QM2 disembarkation time is 8-11 am.
Queen Mary 2 New York to Southampton crossings

itinerary variations:
Eastbound 7-day New York to Southampton
longer crossings (incl round-trip from New York to Europe (Southampton, Norway Fjords, Belgium, Paris France)
QM2 Transatlantic 2021 from New York
October 29 (7-day to Southampton – $1200 pp; 9-day plus Hamburg – $1350)
November 21 (19-day to Southampton – $2700)
December 3 (7-day to Southampton – $1060 pp; 19-day roundtrip plus Rotterdam (Amsterdam, 12), Zeebrugge (Bruges, 14), Southampton (15) – $3100)

December 22 (19-day to Southampton – $3600)
QM2 Transatlantic 2022 from New York
January (7-day to Southampton – $1100 pp; 14-day roundtrip New York City (18) – $2500)
March 14 (8-day to Southampton – $1450 pp; 27-day roundtrip plus Hamburg (24), Tromso (27&28), Trondheim (30), Alesund (31), Stavanger (Apr 1), Southampton (3) – $5150)
QM2 New York cruise information
The Queen Mary 2 ship is usually departing from the New York cruise port terminal in Brooklyn at 5 PM. The ship's check-in services start at 1 PM, and close at 3:45 PM. QM2 arrives at the Southampton cruise port at 6:30 AM. Again, please visit the line's website for the exact Southampton UK arrival times confirmation.
QM2 New York cruise port Brooklyn embarkation
Queen Mary 2 New York boarding/check-in services open at ~1 pm to ~3:45 pm (local time). The embarkation time, along with the other standard procedures information are the same as those about the UK departures from Southampton, since this is the Cunard policy and not the port policy-related issue. So you have the e-tickets with all the info, Cunard will send you labels with departure dates/room numbers, the bag weight limit is again 23kg per bag, you get through the security check, join the queue for check-in, show tickets/passports/credit cards, they take your photo, give you the plastic card for onboard uses, and you embark the cruise ship Queen Mary 2.
The QM2 Southampton disembarkation procedures are also the same as those for the NYC disembarkation – you'll receive a note explaining them outside your cabin 1 or 2 days before the UK arrival, you can choose standard or "Express" disembarkation, put labels on your bags, place the bags outside your cabin between 8-12pm the night before the UK arrival, etc. The London/Southampton disembarkation is between 8 and 11 am local time.
Note: For exact times and prices on trains to NYC leaving from major US cities please visit amtrak.com (the Amtrak train schedule).
Queen Mary 2 crossings Hamburg to New York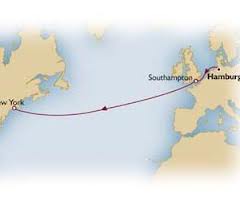 itinerary variations:
Westbound from Hamburg to New York
Transatlantic round-trip from Hamburg
2-day mini-cruise from Hamburg to Southampton
QM2 Hamburg 2021 schedule
November 12 (2-day to Southampton – $430) 9-day to NYC New York – $1200.
QM2 Hamburg 2022 schedule
March 24 (10-day to Southampton – $2000) 17-day to NYC New York – $3300
Most Queen Mary Transatlantic crossings are combined with round-trip cruises from New York to Canada/New England or to the Caribbean. Some of the crossings include ports of call in Europe – including Norway (Norwegian Fjords) or to Belgium and France. Another popular option for this Cunard ship is the fly-cruise deals from the UK and New York, which can considerably lower the overall cost of your Transatlantic travel vacations. RMS QM2 is an exceptional choice for classic and stylish "ocean liner cruising" experiences at really affordable luxury-ship travel prices.

You can share our "QM2 Transatlantic" review and the RMS Queen Mary 2 Transatlantic cruise schedule via our social buttons. Enjoy the ever best of the best British cruise ships departing from Southampton and New York, and be always happy on your uniquely special Cunard Transatlantic crossings on Queen Mary 2 – the Royal Mail Ship of the 21st century!