Since most of the Queen Mary 2 prices related questions are about the QM2 Transatlantic crossings, here we will compare her Trans-Atlantic Ocean fares. The information about what is included in the QM2 cruise fares and where to find better prices is being regularly updated, so expect only small data fluctuations to the actual booking rates. For indicative cruise rates, you can follow our link to the Queen Mary 2 cruise schedule (featuring also min rates PP per voyage).
Queen Mary 2 prices
All QM2 cruise ship prices listed in the brochures and most of the online listings quote cruise prices without the additional port fees plus Gov taxes. This is a common practice for cruise lines and agencies to attract travelers by showing only what is there for them, and not what the Government or the visited ports of call will charge you. But these fees and taxes do exist, they are additional, and you will inevitably pay them.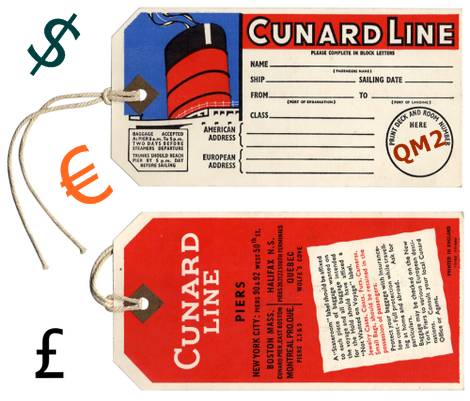 Queen Mary 2 cruise prices on Transatlantic Crossings
The cost of QM2 Transatlantic cruise vacation is way bigger than a business-class UK-USA flight. Queen Mary 2 tickets prices per room (for two people in the most cheap Britannia Inside cabin category) start at ~£970 (~US$1,590) PP per day, and kids tickets start from ~£470 PP pd (~US$770). The 7 day cruise fare includes accommodation, all meals, various entertainment options.
Queen Mary 2 cruise prices hugely vary by season – soaring on the popular Atlantic crossings in the Summer, while special discounted deals in low season can be found at ~£700 (~US$1,150), and even less. If you're cruising solo on QM2 and don't like the idea of sharing the cabin, single cruise rates on Queen Mary 2 start from ~£1,880 PP pd (~US$3,080). And it's not a huge discount compared to the £970/$1,590 PP pd rates – simply because there's the Cunard's double occupancy rule. And for all the very very rich people, the QM2 cruise ship has some of the best luxury cruise suites at sea, which cost many many thousands – the perfect price for the best there is on this liner.
What is an interesting information about this additional cost of your Queen Mary 2 cruises is that the amount of fees/taxes is fixed per voyage, and it's the same no matter the type of stateroom you book on the ship. For example, an late deal on 7-day Westbound QM2 Transatlantic crossing as prices (indicative) may look like this:
| | | |
| --- | --- | --- |
| Staterooms Categories | Discount Prices | Old/Brochure Prices |
| Inside Cabin | $800 | $1,200 |
| Outside Cabin | $800 | $1,500 |
| Balcony Room | $800 | $2,000 |
| Club Balcony Room | $2,300 | $2,500 |
| Princess Grill Room | $3,000 | $3,650 |
| Queens Grill Room | $4,000 | $4,850. |
Great deals on Balcony cabins, by the way. But no matter what type of cabin you book, each of the passengers will have to pay the additional (in this case US$57,35) for taxes and port charges.
Compared to the whole cruise price it's not much, really. And even on the QM2 Around The World Voyage the amount of additional money is around US$1,300. And if this extra cost sounds a little too much, consider the fact that on the 7-day Transatlantic cruise you visit no ports of call at all, while on the World Cruise in 2014, for example, in 119 days you'll visit 29 ports of call located in 18 different countries around the world. The QM2 World cruise prices (also exemplary and suggestive) start from US$22,000, and you should add to that the US$1,270 taxes and fees due to be paid by Cunard in all the ports you'll be visiting.
If you follow our QM2 schedule link above, you'll see the amount of the additional prices per voyage, along with the cheapest prices per person.
Queen Mary 2 tickets
Generally speaking, the cost of Queen Mary 2 tickets is not cheap as this liner is in the luxury cruise ships list. But QM2 cruise rates could be affordably inexpensive to really inexpensively cheap with last minute deals and seasonal discounts.
How to find inexpensively cheap QM2 tickets?
Some of the cheapest QM2 tickets you can find by online booking through renown cruise wholesalers, like Orbitz, Expedia, Cruise.com or Cruise.co.uk. This way you can save probably ~£100 (~US$160) PP compared to the Cunard QM2 cruise rates. Surely you can buy your e-tickets directly from the Cunard Line at cunard.com
If departing from UK, please dial 0845 678 0013
If departing from Germany, please dial +49 (0) 40 415 33 555
If departing from USA or Canada, please dial 1-800-7-CUNARD
Another way is to search for last minute discounted offers and also for off-season Atlantic crossings. But you should know, that this ship, its product and quality of service are truly unique, so expect peak summer Transatlantic cruises to be fully booked many months in advance.
Since the QM2 ship crosses the Atlantic Ocean on a regular basis, they sell also round-trip Transatlantic cruise tickets for the so called "back-to-back cruises". Such offers combine both routes (East- and Westbound crossings) into one 14-days voyage on which you will spend 1 day in NYC or Southampton, and the price will be a discounted one, and you will not change your cabin.
What do the QM2 cruise fares include? Tipping / gratuities onboard
The QM2 Transatlantic crossing fares include your stateroom, meals (and the so British afternoon tea), onboard entertainment (all the signature shows, lectures, movies, using swimming pools and jacuzzies, library. Also included in the tickets price are the "Kings Court"' buffet's tea, coffee and juices. The QM2 tickets are not inclusive of her bars and lounges' drinks, of the Spa services, the Internet access is also an extra, as well as the automatically added gratuities PP pd (which is $11 to $13 depending on the venue you visit).
Payment on board cruise ship Queen Mary 2
Everything on board the QM2 ship, including ordering all kinds of drinks in her bars, or buying books from her bookstore, or booking Spa massages, purchases in her boutiques or paying for the Internet access will be billed to your shipboard account. The procedure is simple – you show your roomcard and you sign for the payment. At the end of the cruise, the card's total will be deducted from your credit card (which you give at check-in) and you will get a summary of your onboard account delivered to your cabin at the end of the cruise. Note: Cunard bars (which are surcharge venues) quote one and charge higher price which is inclusive of the line's 15% gratuities.
Queen Mary 2 Internet access rates
Mobile phones can be used on board the QM2 ship throughout the cruise. It will not be cheap (as most things there), and you will have to ask your GSM operator for their exact rates.
The Queen Mary 2 ship has great Wi-Fi coverage on board. Accessing the Internet is available both in the staterooms and in all the ships public places (the list doesn't include only theatres and restaurants). Internet payment is per minute, with comparatively decent download speeds.
There are also pre-paid Internet packages on Queen Mary 2, and their prices go like this:
120 minutes Internet package costs US$49.95 (~US$0.42 per min)
Pay as you go Internet prices are US$0.75 per min
You can save money by login and downloading emails, then logoff, write the replies offline, then login to send them.
You can also use your own computer on board – registration is with your name and room number, the Internet will be billed to your onboard account. Places where you can use the ship's computer terminals are the "Cunard Connexions" Internet rooms (located deck 2) and the library (located deck 8) – Internet rates are the same.
Power sockets for mobile computers (both UK and US standards) are available in all cabins and in most bars (try the "Commodore"/deck 9 and "Chart Room"/deck 3). For all facilities and staterooms location see our QM2 deck plans review.
You can rate and share our Queen Mary 2 prices and tickets information survey via our social buttons. Visit us again soon for the bar menu with the Queen Mary 2 prices of all the "cruise drinks". Happy crossings on the world's sensation at sea – the Queen Mary 2 ship, enjoy the Cunard experience, and best of luck with them prices!