Cunard Queen Mary 2 deck plans – see where are located all facilities and cabins of the most famous of all Cunard ocean liners. We offer you the QM2 deck plans featuring deck-by-deck sliced facilities review, with cabin location, numbers and categories. This article is integrated with our QM2 ship review (featuring many photos of staterooms and facilities, information on dress code, tips, clientele, etc). You can also follow this link to see the QM2 schedule with prices.
RMS Queen Mary 2 deck plans here will show you the exact location of all onboard bars and lounges. You'll know their names, and the concise review will inform you about their main features. And here's the link to the Queen Mary's decks in PDF (right mouse button click, then "Save link as" to save it on your storage device). This is a direct link to the Cunard Line's website, and the link to the ship's Wiki page.
Queen Mary 2 Deck Plans QM2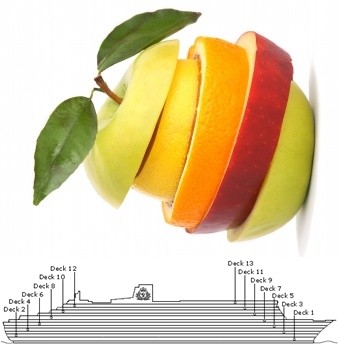 Here QM2 deck plans are offered as small-versions to save you uploading time. They will open in the same window. You can click on the image to enlarge, use "Back" to return to the QM2 deck plans page.
In total, the RMS Queen Mary 2 ship has 17 decks (13 passenger decks), with 14 bars and club venues. QM2 onboard venues range from traditional to up-market (premium luxury), nautically-themed, with two outdoors bars – Terrace and Regatta.
QM2 Deck 1 (plan not provided) holds Tender embarkation/ disembarkation areas. The four so called Hull (below waterline) decks contain the ship's engines and generators, fuel tanks and storage spaces.
QM2 Deck 2 and 3L plan
QM2 DECK 2 plan has the lower levels of the "Illuminations" planetarium, the "Royal Court" Theatre, the ship's 6-story "Grand Lobby" (astonishing art works), the "Britannia Restaurant" (lower level), the "Cunard ConneXions" (a computer center with 21 PCs), a video arcade, the "Empire Casino" (13 tables, 120 slot machines, a bar), guest services desks (a tour and a purser's office) and the "Golden Lion" classic English pub (also casual lunch).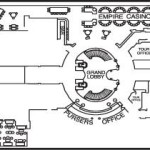 "Cunard ConneXions" (in partnership with England's University of Oxford / ox.ac.uk) is an education centre for Cunard's "College at Sea" enrichment programme – seminars, lectures, various themed discussions on economy, politics, history, music, science.
"Illuminations" is a 500-seat magical hall and the first ever full-scale planetarium at sea (also used as a cinema and broadcasting studio).
"Royal Court" is a grand theater (1,094 seats) featuring performers from the London's "Royal Academy of Dramatic Art" – large scale musical productions, renown entertainers, a hydraulic stage, great acoustics, top-notch lighting & sound systems.
QM2 Deck 3 and 3L plan
QM2 DECK 3 plan has the upper levels of the based on Deck 2 "Illuminations", "Royal Court", "Grand Lobby" and "Britannia Restaurant", plus its very own "Mayfair Shops", the premium "Veuve Clicquot Champagne Bar", the "Chart Room" (pre-dinner cocktail bar, a cabaret singer performances), the "Sir Samuel's" (a premium wine bar), the "Queens Room" (the QM2 ballroom – the first and largest at sea), the "G32" nightclub (located aft), an Art Gallery (classic and contemporary artists) and an "Image Gallery" (all digital).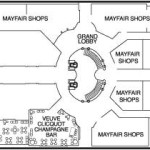 "Britannia Restaurant" (1,347 seats) is a 2-level main dining venue, featuring a sweeping stairway (leading to its grand 2-tiered salon with numerous columns), magnificent cuisine and the largest wine cellar at sea with premium wine selections from all over the world.
"Mayfair Shops" is a 5,000 ft2 (465 m2) boutique area for 8 classy shops (Chanel, Chopard, Dunhill, Escada, H. Stern, Harrods, Hermes, Swarovski), selling souvenirs, perfumes, high fashion, liquors & jewelry.
"G32" has a mezzanine level, the club is named after the ship's hull number (by the ship building yard).
"Queens Room" is specially designed for ballroom dancing, but also may accommodate cocktail parties and afternoon teas.
QM2 Deck 4, 5 and 6 plans
QM2 DECK 4 plan has staterooms only, in the following cabin grades – B3 & B4 (Premium Balcony), C2 (Vertical Window) and D6, D7, D8 (Interior).
QM2 DECK 5 plan has the Athrium and staterooms in the following cabin grades – B2, B3, C1, C4 (Porthole), D1, D5, D6.
QM2 DECK 6 plan has cabins in categories B1, B2, C1, C3 (Porthole), D1, D4, D5, the 2nd level of the Atrium and the children area – the "Nursery" (British nannies), "The Play Zone" (kids ages 2-7), "The Zone" (kids ages 8-12), the "Splash Pool" and the "Minnows Pool". The kids area is supervised by a full-time professional staff and nurses, and all kids venues on board bast the latest "most cool" innovations as equipment and technologies, toys and "kids only" pools and lounges.
QM2 Deck 7 plan
QM2 DECK 7 plan  (for the "Observation Deck") has the sport area with a Gym (with a weight room), the "Therapy Pool" with a huge Jacuzzi, the " Canyon Ranch SpaClub"'s lower level, the "Winter Garden & Bar" (afternoon tea), the "Kings Court" (casual dining venue), the "Queen's Grill Lounge & Bar", the "Princess Grill" and the "Queens Grill" (both offer single seating). Deck 7 is the Promenade Deck (circling around the whole ship).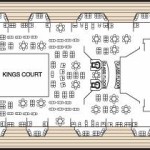 The "Kings Court" buffet (478 seats) serves casual breakfast/ lunch, and at night is divided into 4 themed eateries – "Lotus" (Asian cuisine, 212 seats), "La Piazza" (66 seats, Italian cuisine), "Carvery" (British, 164 seats) and the "Chef's Galley" (cooking demonstrations, 36 seats) for specially prepared entrees.
The "Princess Grill" (178 seats) is an top-class restaurant, serving exclusively Suite guests in Junior Suites grades P1 and P2.
The "Queen's Grill" (200 seats) is another award winning restaurant, serving exclusively the most expensive highest grades Suite guests in the Q-category cabins.
"Winter Garden" serves the traditional British afternoon tea – superior "white-glove" service, fresh pastries, sandwiches and only premium freshly brewed tea in the ambiance of bloomed flowers, a waterfall and a piano.
QM2 Deck 8 plan
QM2 DECK 8 plan has staterooms in the following cabin grades – Q7, A3 (Deluxe Balcony), B5, B6. Public venues – "The Library" and the "QM2 Bookshop" (both the ever largest at sea), a "Beauty Salon", the "Canyon Ranch SpaClub" (upper level), the "Todd English" (156 seats, a reservations-only stylish restaurant with a Mediterranean cuisine), the "Terrace Bar" and its pool (there's also a band stand for live performances).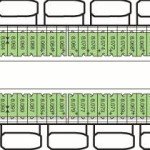 the "SpaClub" (in partnership with Canyon Ranch / canyonranch.com) is a deluxe facility for Spa, Health & Wellness services and optional themed classes (diet, aging, stress relief). The Spa complex covers (on both decks) more than 20,000 ft2 (1,860 m2) and features a Thalassotherapy pool, a waterfall, a Finnish sauna, a herbal sauna, an aromatic steam-room and 24 treatment rooms, while the Spa services include exotic massages, therapeutic bodywork, mud, aroma-therapy, seaweed treatments, facials & masks, therapeutic body cocoons.
"The Library" boasts almost 9,000 volumes (including hard- and paperbacks, audio books and CDs), full-time librarians, leather sofas and armchairs as furniture.
QM2 Deck 9, 10, 11, 12 and 13 plans
You can share this review of Cunard cruise ship Queen Mary 2 deck plans via our social buttons. At our future RMS Queen Mary 2 you'll find lots of fun facts and various information to indulge your curiosity about what is the QM2 cost to build, basic stats and specs, about the technology implemented (during construction and on the ship itself), "first and largest ever" facts, etc. So visit as again soon! Happy cruises on Queen Mary 2!