This is the link to the largest Cunard cruise ship RMS Queen Mary 2 current position at  VesselFinder (a ship tracking website). It will give you the QM2 Queen Mary 2 location on its world map, but before going there, we offer you to learn here some of the secrets about this "modern time widget" called "(cruise) ship tracking".
The above QM2 position link goes directly to VesselFinder.COM – a global AIS ship tracker (free of charge) and one of the world's 5 best ship tracking (worldwide) websites. The VF site offers a 100% free ship tracking service by displaying real time (cruise) ship positions and the global marine traffic detected by the AIS network. It has huge ports- and ships- databases, a great gallery of pictures and photos of all kinds of marine vessels (including of very strange ones!), and also features lots of maritime news and reviews. We absolutely recommend it as a ship tracker because it's so simple, fast and easy to use.
RMS Queen Mary 2 Position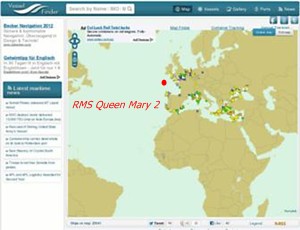 The current position of the Queen Mary 2 ship as a product is a green triangle pointing her course on a map – but how it all works? If a ship is fitted with an AIS transponder (AIS stands for "Automatic Identification System"), it will automatically broadcast information related to its position (both at sea and while in port), speed, destination, cargo, of course the ship's name, etc. AIS transmits ship's position (provided by a GPS) via VHF ("Very High Frequency") radio band at regular intervals. These transmissions are received by all AIS transponders in the vicinity (installed on other vessels or land-based systems). There are some special numbers unique to each ship – IMO (a 7-digit number given by the International Maritime Organization/IMO website imo.org), MMSI ("Maritime Mobile Service Identity") number given by the Maritime Administration of the flag and supervised by International Telecommunication Union/ITU (itu.int) and Call-Sign (related to the ship as a broadcasting station).


As far as the Queen Mary 2 ship location tracking is concerned (tracking of cruise ships in general), this is not any different than tracking any other type of all marine vessels – Ocean-Going, Offshore, Near-Coastal, Government (& Academic), Fishing. And of course – both types of passenger ships – cruise and ferry.
The three "uniquely special" numbers closely related to the RMS Queen Mary 2 cruise ship position (AIS location) are:
IMO number: 9241061
MMSI number: 310627000
Call Sign: ZCEF6 (it's a new one, changed in 2011 after the re-registration of all Cunard liners from UK (Southampton) to Bermuda (Hamilton).
So go back to top and follow our link to find where is RMS Queen Mary 2 located now – there's a great chance to find her right in the middle of the Atlantic sailing proudly on her regular Transatlantic crossings! We wish you nothing less than always happy Cunard cruises on Queen Mary 2 – the biggest and the most famous ocean liner in the world ever, and the very first in the list of all the famous cruise ship names!